I det følgende kan du læse mere om, hvordan SSL virker – både generelt og i forhold til SEO.
Hvad er SSL?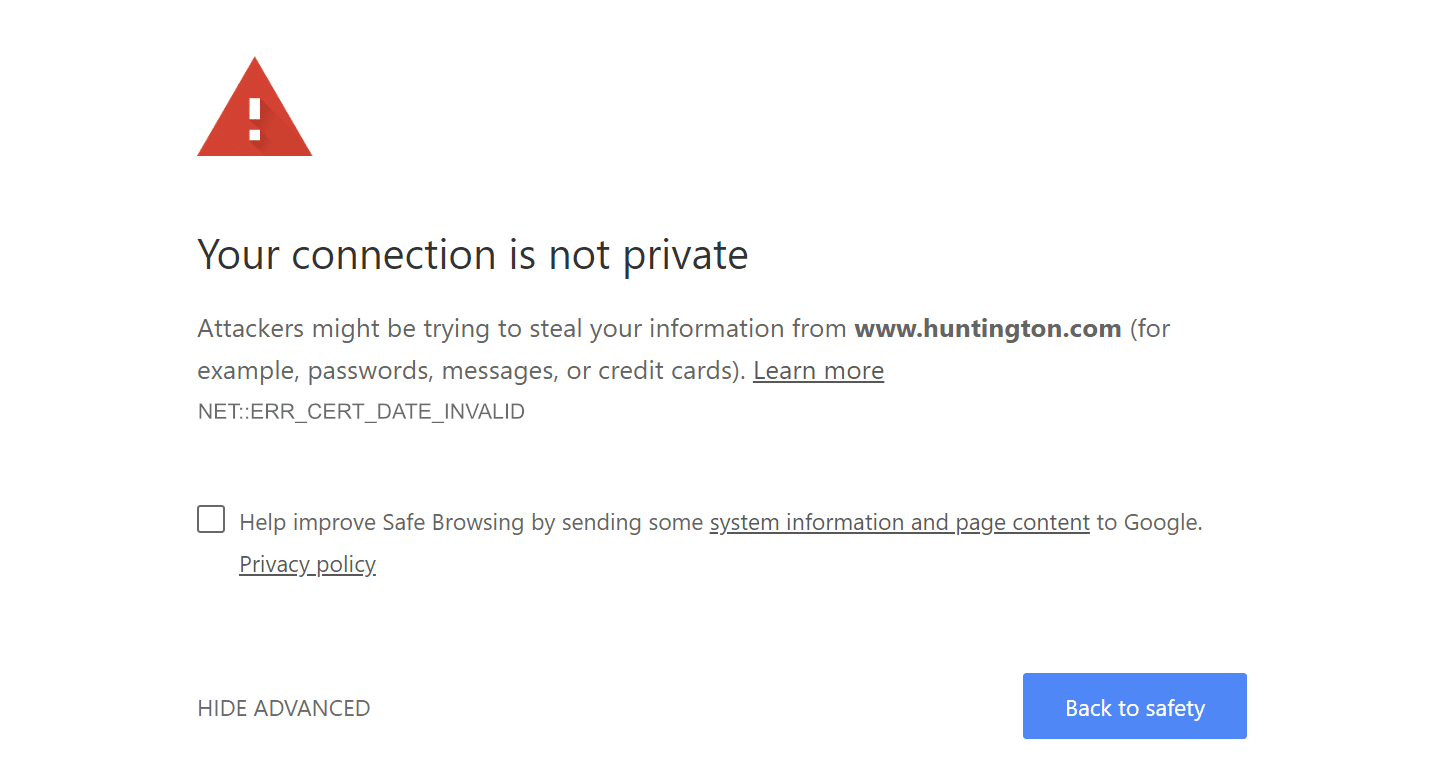 SSL (også kaldet Secure Sockets Layer) er en krypteringsteknologi, som laver en relativ sikker forbindelse mellem server-side (altså en server) og Client Side (typisk en browser eller mail client).
Du kan blandt andet se, hvorvidt en hjemmeside bruger SSL teknologi ved at kigge på adresselinjen i din browser. Hvis der er en hængelås, så bliver der brugt SSL. Når du klikker på hængelåsen, får du mulighed for at læse mere om sikkerheden i forbindelse med SSL Certifikatet: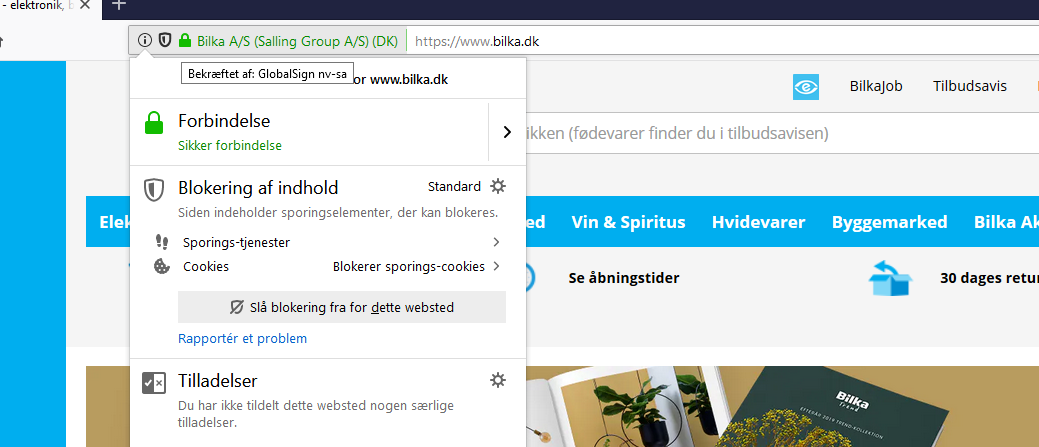 En anden måde er at kigge på URL'en. Står der http eller https. Hvis der står https://, så er der igen brugt SSL teknologi:

På nuværende tidspunkt har de fleste supercomputere ikke kapaciteten til afkode denne type kryptering. Men det vigtige spørgsmål er nu – Har SSL betydning for SEO?
Google definerer selv vigtigheden af SSL som:
"We want to go even further. At Google I/O a few months ago, we called for "HTTPS everywhere" on the web. We've also seen more and more webmasters adopting HTTPS (also known as HTTP over TLS, or Transport Layer Security), on their website, which is encouraging.
For these reasons, over the past few months we've been running tests taking into account whether sites use secure, encrypted connections as a signal in our search ranking algorithms. We've seen positive results, so we're starting to use HTTPS as a ranking signal."

Selvom udtalelsen er fra 2014, så vigtigheden er næppe blevet mindre.
Gary Illyes udtalte til SMX i Sydney 2015, at hvis to hjemmesider har optimeret på samme niveau og har samme værdi fra links, så vil der være en mindre fordel, hvis den ene hjemmeside bruger SSL, og den anden ikke gør.
Hvilke typer SSL findes der?
Der findes 5 typer af SSL certifikater:
1) Extended Validation
2) Organization Validation
3) Domain Validation (DV)
4) Multi-domain Certificates
5) Wild Card Certificates
Hvad er Extended Validation Certifikater ?
Extended Validation (EV) er et single certifikat, og som navnet indikerer, den udvidede version. Det er denne version, som man bruger til transaktionssider. Alle tre typer af certifikater har sikkerhed som det vigtigste. Dog er EV længere fremme, da der som minimum bliver brugt en 2048 bit krypteringsnøgle. Du skal ansøge om, at få et EV, hvilket typisk foregår via din webhost. Prisen kan være op til 10.000 kr/år.
Hvad er Organization Validation Certifikat ?
Organization Validation (OV) betyder, at din side er blevet valideret, og at din virksomhed/organisation har fået et tilkendegivelse fra et central sted – typisk en styrelse eller en virsomhed godkendt af en styrelse. Det tager ikke helt så lang tid at få en Organizational Validation som en Extended Validation.
Et Organizational Validation Certifikat er et single certifikat.
Typisk koster en OV ikke særligt meget, og i nogle tilfælde kan du få den gratis hos din webhost. En OV er stadig en relativ sikker krypteringsform, da standarten, udviklingen og markedskræfterne har medført, at de fleste OV kører på 2048 bits krypteringsnøgler. Dette kan dog variere fra webhost til webhost.
De fleste hjemmesider i Danmark kører i dag på OV kryptering.
Hvad er Domain Validation ?
Domain Validation (DV) betyder blot, at ejeren af hjemmesiden er blevet verificeret. Typisk tager ansøgningsprocessen et par minutter, hvis du gør det via din webhost. Typisk er dette certifikat gratis.
Sikkerheden ved DV er ikke helt så høj som de to første certifikater.
Hvad er Multid-Domain Certifikater ?
Multi-Domain Certifikater (MDC) er til dig, der har flere domæner, og som ikke har tid til at installere separate certifikater til hver hjemmeside. Med et MDC kan du sikre mellem 2-99 domæner via én enkelt kryptering. Det er ikke alle danske webhosts, der tilbyder denne løsning. Økonomisk set kan der være penge at spare med MDC, da du kun skal betale for et enkelt certifikat.
Hvad er Wild Card Certifikater?
Wild Card Certifikat (WCC) er enkle at bruge. Du får mulighed for at sikre dit primære domæne med samtlige subdomæner og mapper med et enkelt certifikat.
Dette er godt til dig, der har en række subdomæner. Du kan få både DV og OV Wildcard certifikater, men du kan ikke få det som EV.
Hvordan optimerer man SSL i forhold til SEO?
Korrekt redirect
Sørg for at undgå loops, når du redirecter. Det betyder, at hvis du har valgt https://minside.dk til din default side, så er det vigtigt, at ALLE versioner redirecter til denne version.
Hvorfor nævne dette – er det ikke indlysende? Jo, men ofte så bliver redirects lavet i etaper. Det betyder, at når man vælger med eller uden www, så
redirecter man http://www.minside.dk til
http://minside.dk (uden SSL og uden www).
Så vælger man at bruge SSL, så http://minside.dk min side redirecter til
https://minside.dk (Med SSL og stadig uden www).
Har du set problemet?
Versionen med http://www.minside.dk redirecter stadig til
http://minside.dk
som redirecter til https://minside.dk, og dermed har du skabt et loop.
Med andre ord, så er det vigtigt, at du får redirected ALLE versionerne til den din default version.
 
Et par smarte tips:
• Når du laver links til din side, så bruger du typisk hele url'en https://www.minside.dk eller https://minside.dk. I stedet for at redirecte, så lav din links protokolneutrale. Det vil sige, at du kan bruge url'en //minside.dk
• Vær opmærksom på, at hvis dit SSL certifikat kommer fra Symmantec, så vil det ikke virke på alle udgaver af Chrome (især Chrome version 65, 66 og 70) 
• Du kan se i Consolen i Dev Tools, hvorvidt du trænger til at få opdateret eller skiftet dit certifikat. Er det ikke på højde med Googles retningslinjer får du denne besked:


• Hvis du vil teste på serverniveau, så tjek denne artikel: 

Tjekliste:
• Passer din SSL med dit CDN?
• Har du opdateret Google Analytics til https?
• Redirecter du korrekt fra http til https med 301?
Opsummering:
Google har udtalt, at SSL har en betydning i forhold til SERP.
Der er 5 forskellige typer Certifikater
Ikke alle typer certifikater er lige sikre
Den hyppigste fejl er, at der redirectes forkert