Internt link building er et af de steder, hvor der er flere online marketeers, der hopper over. Grundene kan være mange, men ikke desto mindre er det et ærgerligt sted at fjerne fokus fra. Bruger du internt link building korrekt, kan du i mange tilfælde ranke på long tail ord helt uden at bruge eksterne links.
Her er de 7 ting, som du bør overveje i forhold til internt linkbuilding:
Sørg for at have tekst – Masser af tekst
Brug ankerteksten til din fordel. Det samme gælder for interne links som ved eksterne links. Det betyder, at hvis du har Side A, der handler om armbånd og Side B, der handler om læder armbånd. Når du linker til siden om læder armbånd, men blot bruger "armbånd" som ankertekst, laver du søgeordskannibalisering.
Overvej dit hieraki. Læser du dette indlæg, har du sandsynligvis udmærket tjek på dine SEO-fundamentals. Overvej, hvor mange gange du har lyst til at linke til din forside, kontakt-os-side eller om-os-side. Jo flere interne links jo mere ser Google disse sider som vigtige sider.
Sørg for at lave informative anktertekster. Når du bruger ankertekster som "her" eller "Sofa", kan du sandsynligvis få Google til at læse linket, men dine brugere klikker sandsynligvis ikke på det. Ideelt set behøver brugeren jo ikke klikke på linket, men du vil jo sandsynligvis gerne have brugeren til at gå til den anden side. Hvis du laver dine ankertekster mere lækker eller forførende, kan du sandsynligvis få brugeren hen på den helt rigtige side.
Sørg for at linket har relevans for brugeren. Igen er det brugeren, der kommer i centrum for din link building. Lyder det besværligt? Faktisk burde hele dit mind set være omkring brugerens ønsker og intentioner, så hvis du synes, dette lyder fjollet, så tag en dyp indånding og læs videre. Når dine brugere befinder sig på en side om sofaer, giver det knap så meget mening, at du leder brugeren hen til en side om spisestuestole. Brugerens intentioner på dit site involverer sandsynligvis kun de produkter, der relaterer til det søgeord siden handler om. Hvis du begynder at linke til sider, der er irrelevante, skaber du en masse unødigt støj.
Undgå at lave for mange footerlinks.
Undgå at have for mange links på en side.
Brug Search Console til at få et overblik
Google Search Console er og bliver et af de bedste tools, når du laver SEO. Når det gælder internt linkbuilding kan du også hente brugbare data ud af toolet. Under Søgetrafik –> Interne links får du en liste over alle de interne links, Google har registreret på dit site:
Her er et par artikler, du bør læse:
Improve internal linking for SEO: Calculate Internal PageRank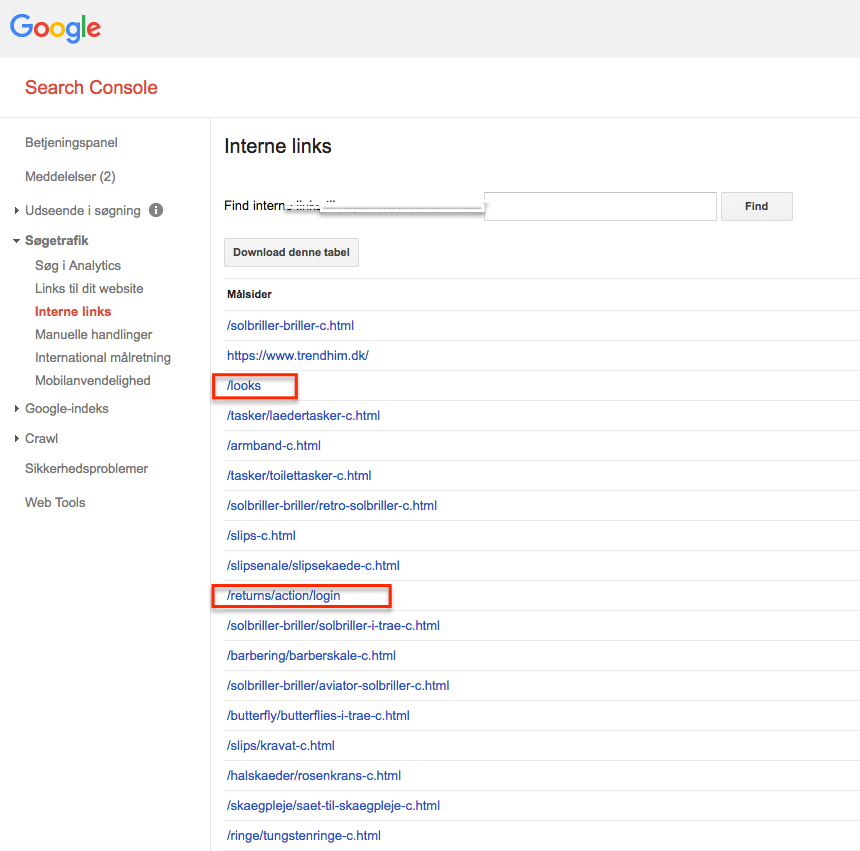 I ovenstående tilfælde er der et par sider, som er ganske overflødige i forhold til antallet af indgående links og dermed vigtighed for siden i Googles optik. Her kan man med fordel overveje andre strategier eller tilgange til disse sider.
Du kan også vende tilgangen på hovedet og bruge disse sider som sider, du kan linke til sider, du gerne vil give mere værdi.
Hvad siger Google selv om internt linkbuilding?
Ifølge Google viser antallet af interne links til en given side den relative betydning for sitet som helhed. Det vil sige, at hvis du flere steder på dit site har et link til dine købsbetingelser, så fortæller du Google, at denne side er vigtigere end andre sider. Du kan læse hele Googles indlæg om internt linkbuilding her
Hvad sker der, hvis man laver No-follow på interne links?
Hvor mange interne links må man have på en side?
Når det kommer til antallet af interne links på en side, så er der sjovt nok mange forskellige svar. Grunden til dette er, at det er svært at måle, så det bliver gætværk et langt stykke af vejen.
Læs hvad link-assistant.com skriver om antallet af interne links på en side
Dels er der hele spørgsmålet om usability og hvor mange links en bruger kan blive udsat for, før det ødelægger oplevelsen på sitet. Dels er der hele spørgsmålet om, hvor mange links Google læser og tillægger værdi på en side. Tidligere havde Google en 100-link-regel, men den droppede de i 2013.
Læs mere om hvorfor Google droppede 100-link-reglen her
Du bør altid have en fornemmelse af, hvor mange interne links, du har på en side.
Du kan bruge dette tool til at anslå, hvor meget juice et internt link kan give en side
Bliver links redundante i forhold til Bread Crumbs?
Det har i længere tid forholdt sig sådan, at hvis du linker til den samme URL to eller flere gange, bliver link nummer to eller tre reduceret i værdi. Det vil sige, at i forhold til internt link bulding vil der være redundans mellem de links, der fremkommer af bread crumb og eventuelle links i teksten.
Inden du fortvivler og tænker, at så er al internt link jo spil, så læs lige hvad Link-Assistant.com skriver om dette:

(Screen shot fra https://www.link-assistant.com/news/internal-linking.html)
Med andre ord så vil et link fra brødteksten give mere værdi end links fra head eller footer delen. Dermed vil der også være en større eller mindre gevinst ved at lave internt link building fra teksten.


https://www.distilled.net/resources/3-seo-split-tests-you-should-try/